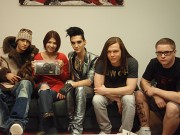 Interview Radio 81.3 FM J-WAVE - Tokyo, Japan 11.02.2011
Interview with Tokio Hotel
Bill Kaulitz: «I don't celebrate Valentine's day because I don't have a girlfriend.»
This week, we met with the phenomenal German rock band Tokio Hotel. Indeed, Nana Otsuka met them yesterday and interviewed the members of Tokio Hotel who visited Japan.
They have sold more than 7 million albums to date! They are the most successful artists in Germany in the past 20 years.
This week, Tokio Hotel makes their debut in Japan!
Yesterday, in a building in Tokyo, I went to visit guitarist Tom, the singer Bill's twin brother. I also met bassist Georg and drummer Gustav!
The singer Bill's outfit was unique. He wore a silver suit, it was splendid! As expected, he was dazzling!
First, I asked the untold story of the group and where the name Tokio Hotel ame from.
Bill: That's a question that has often been asked. The band was formed when we were very young and the band's first name was «Devilish». I wanted a cool name, and while looking for a new name for the group, we had the idea of "Tokio Hotel". It sounded good, Tokyo is a far away city and kept us motivated. We liked it because we felt that it was a goal. Including the word «Hotel», it was the world we dreamed about. And then, «Tokio Hotel» I think, is a pretty name.
«Tokyo is a goal», he dreamed of a place of symbol. [TOKYO -> TOKIO].
And the symbol of their desire to make a living on tour -> HOTEL.
The name of the group is full of dreams.
Later, I told them about their first Japanese album "Darkside of the Sun." I heard it was a concept album.
Bill: Firstly, I really wanted to do a special edition for the Japanese fans. I think you need to understand what it is to listen to an album of Tokio Hotel . We have included two new songs from previous albums. From this point of view, I think it's the best Tokio Hotel album ever released . As for the selection of songs, each group member has selected his favorite. For example, we decided that "Monsoon" should figure in it because it is a very special song for us. It is our first single.
In a few days, it's February 14, Valentine's Day. In Japan, a young girl offers chocolates to the guy she loves! Here is their reaction when I told them!
Bill: Really?! We must introduce that habit in Germany! I envy the Japanese boys. There is also Valentine's Day in Germany. But guys offer gifts to girls instead. You can also give gifts to people important to you, like your family. I do nothing, because I have no girlfriend, but Georg does, why don't you offer her something like a car or a diamond?
I wish I were a Japanese boy. In Germany and in Japan, some customs are different! I did not know Georg had a girlfriend! I offered them chocolate, woe is me.
The members of Tokio Hotel have decided to leave one last message to the listeners.
Bill: Thanks for your continued support, guys. I am very happy to be in Tokyo. Hope to see you soon!
Translation by Eien @ LOVETH-MUSIC.COM
Fuente: http://tokiohotel-info.myblog.de/tokiohotel-info/art/7366833/-h1-Interview-Radio-81-3-FM-J-WAVE-Tokyo-Japan-11-02-2011-h1-